Click
here
for music off.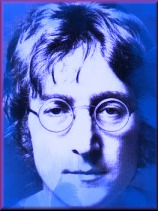 I remember the day John Lennon was murdered very clearly,I was 15 years old at the time and a huge Beatles fan. I got up for school that day and heard the news on Good Morning America and stayed home for two day's.
It was the saddest day for Beatles fans all around the world. It's still hard to believe that someone who sang about love and peace died in such a violent way. It's amazing how many people young and old all over the world mourned the death of John Lennon the moment we all heard the tragic news. Everyone was glued to the televison and reading the newspapers wondering how something like this could have happened????
Millons of people gathered together to grieve the loss of such a great musician. On the news they were showing huge crowds at the Dakota Apartments of fans in mourning. A few day's later on Dec 14th, 1980 Yoko Ono asked for 10 minutes of silence and radio stations all over the world went off the air as requested.
Even though it was almost 20 years ago it seems like yesterday. No other person has touched so many people the way he did, and still does. On this section of my site you will find links to my John Lennon Pictures page and also my John Lennon Remembered section where fans have submitted thoughts and memories. You can also be a part of it by filling out the form on the John Lennon Remembered page.
John Pages

~Site Menu~


About Me ||| Beatles Gallery 1 ||| Beatles Gallery 2 ||| |||John Lennon ||| Paul McCartney||| George Harrison ||| Ringo Starr |||Beatle Greeting Cards |||Beatles Trivia Game ||| Beatles MixUp Game ||| Win My Award ||| Awards Won ||| Find A Beatle ||| Webrings ||| Links Page ||| My New Guestbook |||


View My Old Guestbook #1
View My Old Guestbook #2
Lisa's Groovy Beatles Site © copyright 1998-2002